Tiramisu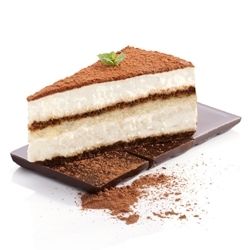 Description:
Tiramisu is an Italian dessert made of coffee syrup, cake, and marscapone cheese.
Tiramisu from TFA is quite a potent flavour, please don't even attempt to smell the bottle as the smell is strong enough to make you dump it BUT once you've figured out how to use this flavour, you'll enjoy it more and more with each passing day.
It's quite a complex flavour on its own but don't EVER vape it over 5%. You will literally die on the spot.
How to use it: Tiramisu should be used at a low percentage with 2 or 3 other creamier flavours to blend in its potent taste. Start at 0.5% and work up from there. Try not to exceed 4% unless you really love dry tasting coffee.
Similar to: Dark chocolate espresso
Is it for you: This flavour is more suited for those who enjoy strong coffee notes, if you into strong espresso type flavours, this might be just for you.
Steeping time: 3 weeks
Recipe 1:
Cheesecake Graham Crust (TFA) - 3%
Tiramisu (TFA) 0.5 - 1%
The above recipe has proven to be quite a hit.
Recipe 2:
Tiramisu (TFA) - 1%
Bavarian Cream (TFA) - 3%
French Vanilla (TFA) - 4%
Sweet Cream (TFA) - 2%
Recipe source:Reddit
Credit: captchronik17